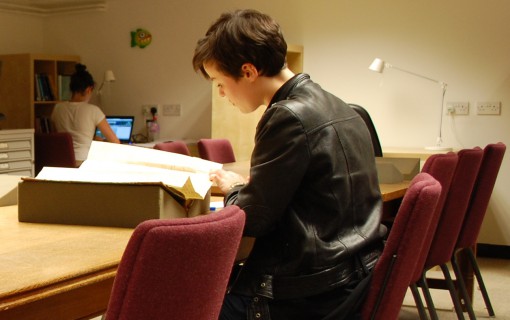 There are many different ways to get involved with the work of The Angus Library and Archive. We would like to hear from you regarding what your interests are and see how your skills, gifts and abilities can be used to help us continue to develop The Angus Library and Archive.
Thank you for looking at our volunteering page. At the moment we are not taking any new volunteers, but expect to be starting a new groups of volunteers in February 2016.
We are recruiting for the following roles:
General Angus Volunteer
Exhibition Guiding Volunteer
Exhibition Interpretation Volunteer
Exhibition Research Volunteer
Student Support Volunteer
Volunteer Advocate
If you are interested in any of the above roles and would like a detailed role description, please email:  angus.library@regents.ox.ac.uk
What benefits are there to volunteering and what training will I receive?
Volunteering is fun and fulfilling! Whilst many people chose to volunteer in order to gain valuable experience for their CV, there are also plenty of other reasons to volunteer, including:
Learning new skills
Helping others
Meeting new people and becoming part of a team
Finding out about local history and enriching the local community
Improving your employability through training and development
We will provide an induction tailored to each volunteer position, including: Background History, Information about The Angus Library and Archive and its Collections, Health and Safety, Handling Fragile Documents, Equal Opportunities, Safeguarding Policy, Volunteer Policy, and Procedures.
We will also provide relevant training agreed upon according to an individual's development needs.
How much time must I give and is there a minimum commitment?
The Angus Library is open 9.30am – 4.30pm (Monday – Friday).
Volunteer hours will be agreed upon with each individual; the majority of volunteer work will take place within the opening hours, however some roles do require weekend hours which will be specified within the role description.
What skills and experience do you ask for?
Volunteer placements are made after an informal chat during which the applicant's skills, talents, interests and desires will be discussed so that a suitable role can be determined.
Can I claim for my expenses?
We will reimburse all reasonable volunteer expenses, such as travel costs. We are also able to provide lunch if a volunteer is on site between 1pm-2pm.
Will I have to undergo a police check?
The need for a police check depends on the volunteering role and will be specified in the role description.
Are there any age limits?
We currently only accept volunteers aged 18 or over. There are no upper age limits to volunteering at The Angus Library and Archive.
How do I apply to be a volunteer?
If you have any further questions about volunteering, please send us an email: angus.library@regents.ox.ac.uk