Navigating the Congo: Free Exhibition and Talks
Posted Friday, 21st August 2015
21st September – 26th September 2015, Regent's Park College, Oxford
Featuring artefacts, navigational equipment, maps, photographs, personal letters and diaries, Navigating the Congo is an exhibition which explores the history of non-conformist involvement in the Congo River regions during the 19th and 20th century.
By looking at the collections held in The Angus Library and Archive, the exhibition seeks to bring to light some of the challenges faced in navigating this history and the relationships that developed between Baptist missionaries and the Kongo people during the period of European colonialism.
Two free talks will be held during the exhibition:
Tues 22nd Sept – Bandi Mbubi (Congo Calling) will be speaking on conflict in the DRC and fair trade technology
Thurs 24th Sept – Dr Rob Burroughs (Leeds Beckett University) will be speaking on Protestant missionary travellers in the Congo Free State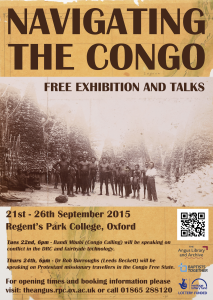 Bandi Mbubi is a founder and director of Congo Calling, an organisation who are working to bring the world's attention to the atrocities being committed in the Congo and for a peaceful resolution to the ongoing war. Bandi writes and speaks nationally and internationally to create a mass movement of consumers who demand the development of fair trade technology which uses ethically-sourced, conflict-free minerals from the Democratic Republic of the Congo (DRC).
Dr Rob Burroughs is Senior Lecturer in the School of Cultural Studies and Humanities, Leeds Beckett University. His publications include Travel Writing and Atrocities (Routledge 2011) and The Suppression of the Atlantic Slave Trade (co-edited with Richard Huzzey, Manchester 2015). Rob is the lead UK partner in the NWO-funded European research project 'The Congo Free State across Languages, Media and Cultures'. Current projects include research of the Africans who testified against colonial violence in the Congo Free State.
For more information about our upcoming and past exhibitions visit our Exhibitions page
Categories:
Exhibitions
Leave a comment
comments powered by

Disqus