Virtue and Vice and All Things Nice: Free exhibition and talks
Posted Tuesday, 7th April 2015
20th – 25th April, Regent's Park College, Oxford
An exhibition celebrating literature, Virtue and Vice and All Things Nice, seeks to unveil some of the extraordinary and exquisite works that can be found filling a non-conformist library. Featured works will include wonderful accounts of travel and exploration, early examples of children's literature and a selection of work by John Bunyan.
Two free talks will be held in conjunction with the exhibition:
23rd April, 5.45pm, 'The invention of John Bunyan' with Prof. Anne Dunan-Page
24th April, 5.45pm, 'Many Other Things, Both Pleasant and Useful: Children's Books from the Angus Library' with Dr Hannah Field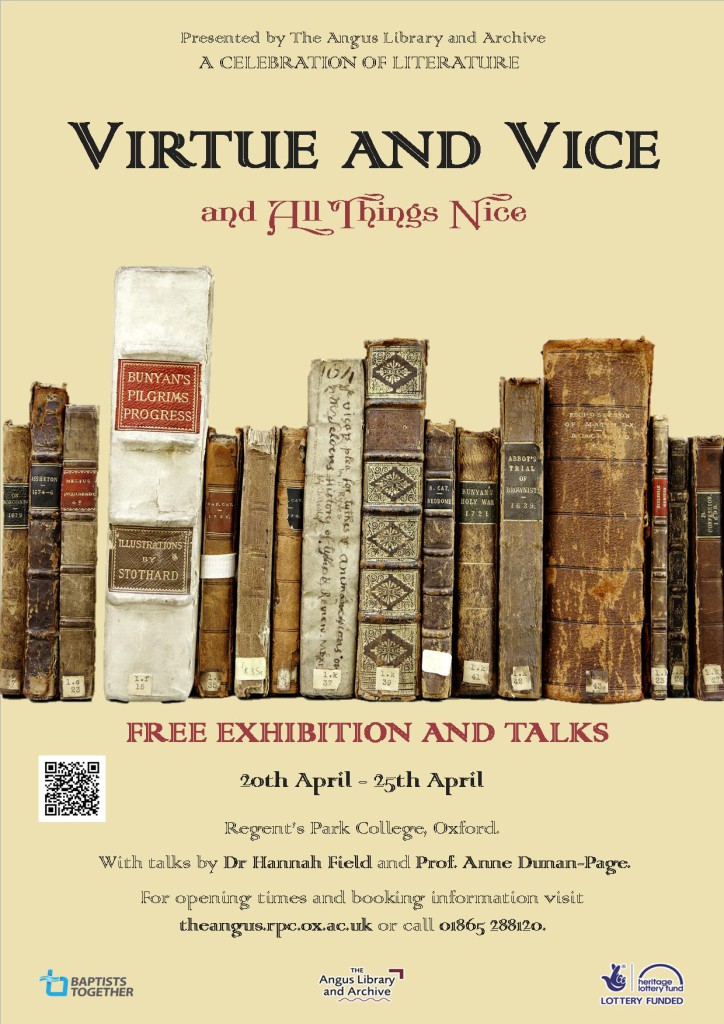 Anne Dunan-Page is Professor of Early-Modern Studies at Aix-Marseille University (France) and President of the International John Bunyan Society. She completed a PhD on the work of John Bunyan and an HDR (Habilitation à Diriger des Recherches) on the question of dissenting identity at the Restoration. Her current project is a monograph on gathered Churches, based on their Church books, and the preparation, with Michael Davies and Joel Halcomb, of a calendar of Dissenting Church records.
Hannah Field is a lecturer in English at the University of Lincoln. She completed her DPhil, on the subject of the Victorian novelty books for children, at the University of Oxford. Her research interests are the literature and material culture of the nineteenth century, book history, and children's literature and she has published essays on Beatrix Potter, Rumer Godden, and toys in literature, among other topics.
For more information about our upcoming and past exhibitions visit our Exhibitions page
Categories: Uncategorized
Leave a comment
comments powered by

Disqus