Researching 'For Liberty Against Tyranny'
Posted Wednesday, 24th September 2014
I joined the exhibition team at The Angus as I wanted the chance to tell people about World War 1. Going through the material I researched you soon realise the global impact the war had. It certainly wasn't just about the trenches. Civilians across the world were affected as well. Price rises, food shortages, mail delays, bombings in Scotland as well as the human sacrifice of many millions. Doing the research has been worthwhile as has listening to lectures and a talk. From this I've learned more about the war and how it affected other peoples' lives.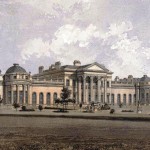 Holford House, used by St Dunstan's
I discovered that Regent's Park College helped in the war. Looking through its minutes' book in 1916 the College let its premises to St Dunstan's, the hostel that retrained blinded ex- soldiers and sailors. Two people who were involved in letting it out were the Baptist minister Rev Shakespeare and David Lloyd George who was shortly to become Prime Minister. The move of Regent's students to Hackney College meant the temporary dissolution of G.P. Gould's effective presidency over the College, but he too was supportive of the plans to support St Dunstan's life-changing work and, freed from a large extent of his duties, focused on improving the system of work in College in cooperation with Hackney College and New College.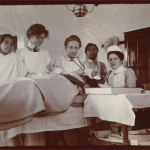 Dr Ellen Farrer
Other materials I have found interesting were the diaries and chronicles of Dr Ellen Farrer who worked in a hospital in India through this period and for many years either side. The descriptions and subsequent insight you glean from how people lived a hundred years ago especially in another continent brings into sharp contrast the difference in the conditions they experienced.
Working on the project has also given me more experience in doing exhibition work which is useful as I like explaining history to others. Giving people a chance to learn something new is always rewarding whether it is for you or for the visitor. It also gives me a chance to add to my skills I learnt from my post graduate diploma in museum studies from Leicester. The team at The Angus are all a good bunch being easy going and willing to help and pass on a mindful of information as there are lots of books here.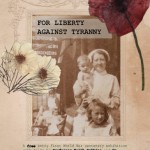 For the exhibition we started back in early June and had our first team meeting on the 10th discussing the themes topics and choosing who wanted to do what. My primary focus has been on missionary work seeing what role that played in the war. Meetings here have been a good opportunity to bring more ideas to the table helping ensure the exhibition is a success. Most of the research by now has been done and we are seeing how it all fits together making sure we are putting our ideas and discoveries through on to the panels and guides in the weeks ahead ensuring that the stories we are telling will be heard.
David Cox, Volunteer Exhibition Researcher
For Liberty Against Tyranny tickets available online.
Categories:
Events
Exhibitions
Volunteering
Leave a comment
comments powered by

Disqus