In honour of World Poetry Day – Sacred Songs and Solos
Posted Friday, 21st March 2014
Sacred Songs and Solos was a revolution in hymnody when it first appeared.  It was one of the first hymnbooks to transcend the confines of the standard metrical tunes which could be fitted to most hymns to some extent. Metrical hymn singing was not always without embarrassment: an elderly friend once recounted the occasion when the musical line breaks caused her congregation to implore heaven to 'stir up our stew' (Stir up this stupid heart to pray).
Ira Sankey was a Methodist hymn writer and gospel singer who was closely associated with the massive evangelistic crusades of the Congregationalist Dwight L. Moody.  Although the pair were from the USA, they were particularly popular in Great Britian, where they preached and sang in front of crowds of thousands. They were early ecumenists, and crossed denominational divides, while remaining firmly in Evangelical camp.  Their work was particularly supported by the Baptist Charles Spurgeon from his Metropolitan Tabernacle in South East London.  Sankey's lively music was a massive hit, and he released Sacred Songs and Solos in 1873, which is often referred to as Sankey and Moody, although only one hymn had lyrics written by Ira Sankey, and not a single one was composed by Dwight Moody.
However, many of the tunes were arranged by Sankey in a modern 'pop' style. It has been noted that Sankey's style of arrangement owed a great deal to black Gospel music, music hall tunes, Bluegrass and even early forms of jazz.  This can be seen in the very syncopated rhythm in this arrangement of Sweet By-and-By.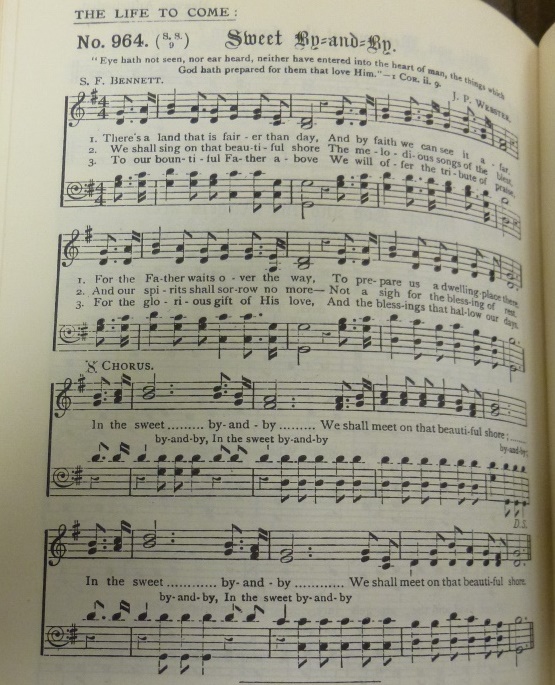 Angus K.14
However, this influence was gradually ironed out by European churches, and by the 21st century, while Sankey's cheerful melodies are still used, the rhythm has degraded almost beyond recognition.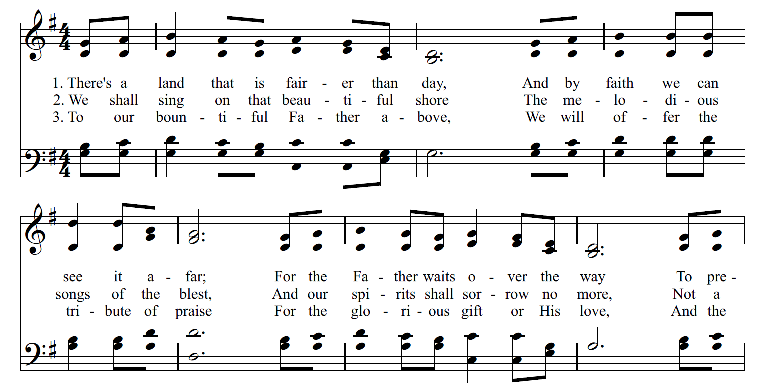 http://www.hymnary.org/media/fetch/146887 (Accessed 21/03/2014)
Many of the hymns are still in use in many churches today, and the style of the meetings continues to influence preachers and musicians. However, others have not withstood the test of time so well. A notable casualty is O Where is my Wandr'ing Boy Tonight?
Where is my wandering boy tonight
The boy of my tenderest care
The boy that was once my joy and light
The child of my love and prayer
Where is my boy tonight
Where is my boy tonight
My heart o'erflows for I love him he knows
Oh where is my boy tonight
Once he was pure as morning dew
As he knelt at his mother's knee
No face was so bright no heart more true
And none was so sweet as he
Oh chould I see you now my boy
As fair as in olden time
When prattle and smile made home a joy
And life was a merry chime
Go for my wand'ring boy tonight
Go search for him where you will
But bring him to me with all his blight
And tell him I love him still
Categories:
Cataloguing
Leave a comment
comments powered by

Disqus