Measured Excitement: The Arrival of Artefacts from Grenfell's Congo Voyage
Posted Tuesday, 29th July 2014
There are an abundance of treasures and curiosities housed in The Angus, but something we've always been lacking is a nineteenth-century sphygmomanometer!
The arrival of a large wooden box purporting to contain artefacts relating to the work of the cartographer and Baptist Missionary, George Grenfell (1849 – 1906), has managed to surpass all of our expectations, not only do we now have in our possession a sphygmomanometer, but also a chronometer, barometer, sextant, 'hack' watch, spirit level, stethoscope, microscope, artificial horizon, a pair of very lightweight binoculars, two telescopes and three thermometers. We're ready to observe and measure anything!

Such an extensive array of equipment would have been vital to the success of the first cartographer to map the Congo Basin. Between 1880 and 1886, a number of explorations of the Congo Basin in western Africa were led by Grenfell. Alongside his team, Grenfell explored and mapped the little-known tributaries, thus opening the central African interior to further expeditions.
Some more unusual items from Grenfell's collection which are now in The Angus include a cloth pouch of medical tools, the bark of the tree under which Livingstone's heart was buried and a mouth organ belonging to Mantantu Dundulu.
Work must now begin to preserve the story behind these wonderful artefacts, and we hope to exhibit these in the future. More to follow soon on the life of George Grenfell…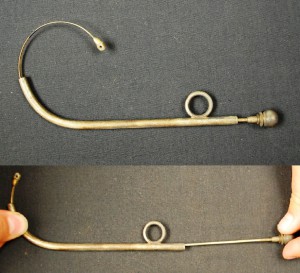 The use/s of some of the items belonging to Grenfell is/are not entirely obvious; if you happen to know what this miniature instrument is, please do leave us a comment!
 Katie Pearce, Learning and Participation Officer
Categories:
Exhibitions
News
Leave a comment
comments powered by

Disqus