Medical marvels from Dr Joseph Angus' Autograph Book
Posted Friday, 13th February 2015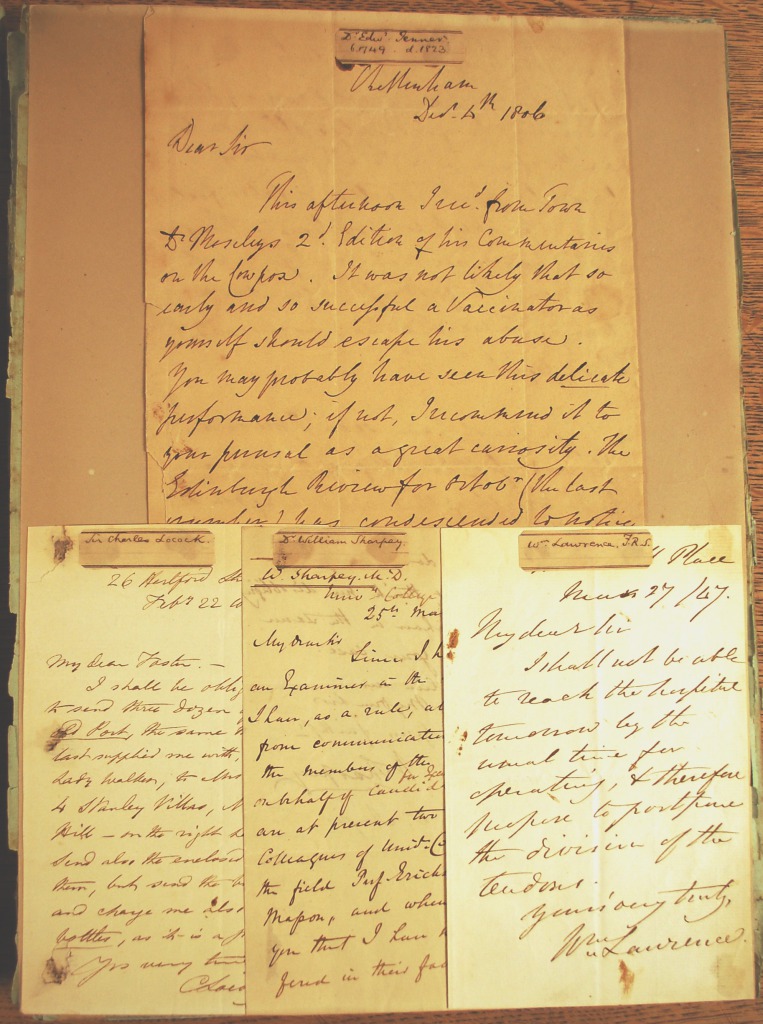 This page from the autograph book collects together letters from some of the most eminent medical men of the nineteenth century. The letter on the top half of the page is by Dr Edward Jenner, and on the bottom, from left to right, are Sir Charles Locock, Dr William Sharpey, and William Lawrence.
Sir Charles Locock (1799 – 1875) was employed as Queen Victoria's obstetrician after her marriage in 1840, and went on to safely deliver all nine of her children, including the future King Edward VII. During her eighth pregnancy, Locock and his team were criticised in the popular press for giving the Queen chloroform during childbirth, then still perceived to be a new and dangerous practice (Victoria herself reported being very satisfied). Locock's son, Frederik Locock, adopted a boy who later claimed to be the illegitimate son of Princess Louise; in 2004, their descendent Nicholas Locock unsuccessfully petitioned for a DNA test to prove this claim.
In this letter, Locock appears to be buying "three dozen" bottles of port.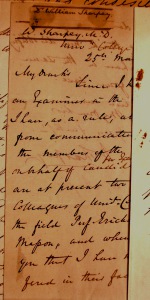 Dr William Sharpey (1802 – 1880) was a Scottish anatomist and physiologist. First teaching anatomy at Edinburgh, in 1836 Sharpey was appointed as a Professor of Anatomy and Physiology at University College London, becoming the first Professor to teach a complete course of lectures in that position.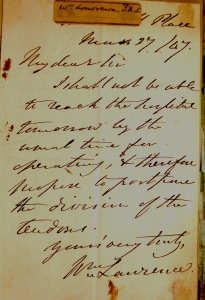 Sir William Lawrence (1783 – 1867) initially came to public attention over the publication of his book Lectures on Physiology, Zoology, and the Natural History of Man in 1819. Then a Professor of Anatomy and Surgery at the Royal College of Surgeons, Lawrence's book made bold and direct contradictions to the Bible, especially in claims that "The representations of all the animals being brought before Adam in the first instance and subsequently of their being collected in the ark… are zoogically impossible." The Natural History of Man was ruled blasphemous, and its copyright was destroyed. In later years he moved back into respectability, and eventually worked alongside Charles Locock as Surgeon Extraordinary, and later Serjeant Surgeon, to Queen Victoria. Unlike Locock's specialised work, these positions looked after the Queen's general health, both in and out of pregnancy. He also consulted Percy and Mary Shelley on their health, and the critic Marilyn Butler argues he could even have "guided the couple's reading in the physical sciences" which later influenced Shelley's depiction of Frankenstein.
In this letter, Lawrence apologises that he will be late to hospital tomorrow, and therefore "propose[s] to postpone the division of the tendons."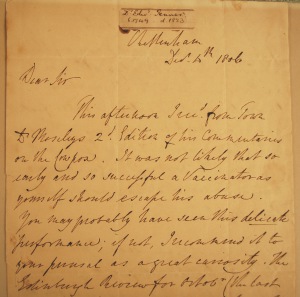 Dr Edward Jenner (1749 – 1823), known today as "the father of immunology", pioneered the world's first vaccine in the form of the smallpox vaccine. Working from his observations that milkmaids who contracted cowpox became resistant to smallpox, Jenner began a revolution in disease control by intentionally exposing patients to cowpox. He called this process "vaccination", after the Latin vaccina ("pertaining to a cow"). Previously, smallpox resistance had been attempted through "inoculation", the introduction of small amounts of the actual disease to the patient, which was effective but still carried a small chance of fatality. Further, inoculated patients could spread smallpox to others, while vaccinated patients could not. The idea of injecting animal fluids into humans, however, was an uncomfortable one, and Victorian anti-vaccination advocates exploited this idea to suggest that vaccinated patients risked becoming hideous human-cow hybrids. Despite this, inoculation was eventually banned and vaccination made compulsory, protecting much of Europe from a disease which went on to kill over 300 million people in the 20th century, until the World Health Organisation finally eradicated smallpox in 1980. Smallpox remains the only disease eradicated with vaccination, and Jenner is estimated to have saved more lives than any other human in history.
In this letter, Jenner is writing to another vaccinator about Benjamin Moseley, the leader of the anti-vaccination movement. Moseley's publication Commentaries on the Cowpox attacked Jenner for creating a "pagan…phrenzy" for cow-worship. As Jenner notes drily, "You may probably have seen this delicate performance; if not, I recommend it to your perusal as a great curiosity".
By Tim Gao, Exhibition Research and Interpretation Volunteer
Categories:
Volunteering
Leave a comment
comments powered by

Disqus