Our Top 5 Tips for Creating Exhibitions on a Budget.
Posted Monday, 21st September 2015
Over the last 3 years the Angus has produced four pop-up exhibitions as part of our current Hidden Treasures project which is being funded by the HLF and BUGB. This funding has allowed us to work with a very modest budget. We're not complaining, working with even a small budget is a hundred times better than our previous outreach budget of Absolutely Nothing.
As the final exhibition in this series is on display this week, we thought we would share our top 5 tips for putting together an exhibition on a budget:
1. Find hidden talents
You will be surprised at the range of skills you can find in a small team, so make the most of what you've got. Recently one of our volunteers created a set of wooden audio listening stations from reclaimed wood. It turns out we also have a professional voice actor on staff who has contributed great recordings to install in the listening stations (thanks Will!).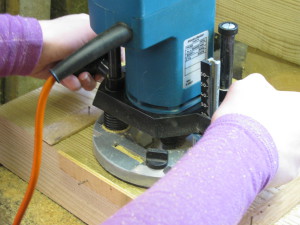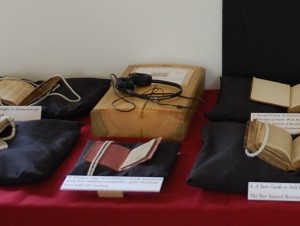 2. Flexibility is key
If you are investing in professional equipment such as display stands and cases, try to invest in a system that is as flexible as possible so that it can be used again next time.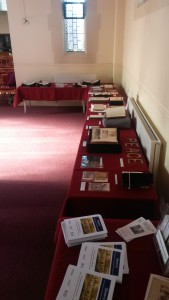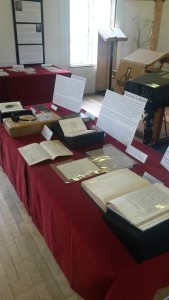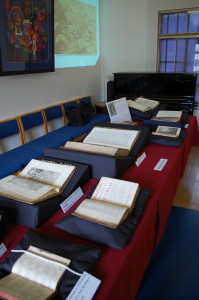 3. Professional printing doesn't always cost the earth
These days professional printing doesn't have to blow your whole budget in fell swoop. Posters, pamphlets and booklets can be designed on software such as Publisher, Photoshop or Gimp (which is free) that can be sent away for immediate printing. If you get confused by terminology such as bleeds, crop marks, CMYK and RGB, we've found that most commercial printers are happy to offer advice on making documents print ready. To keep costs down, stick to standard paper sizes (A4 or A5) and get quotes for different paper weights.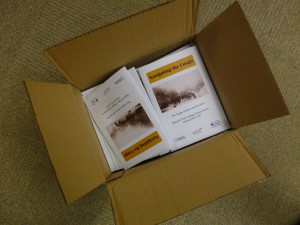 4. But see what you can achieve in house
If you are handy with spray mount, a craft knife and hot glue gun you can get a long way on your own. Just because the process it simple, it doesn't mean it can't look professional. While we send some things out for commercial printing, we produce our display panels and labels in house using stiff foam mounting board and I think they look pretty slick.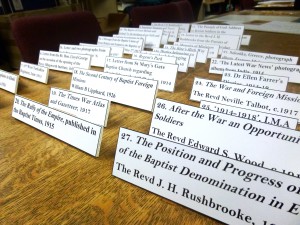 5. Thank your volunteers!
The Angus relies on the hard work of our Exhibitions Volunteer team, who carry out the majority of the research and interpretation work. Our volunteers get the opportunity to contribute ideas and work that has a direct effect on how the final exhibition looks. We hope that the experience of co-curating an exhibition means that the time they give us in the archive pays off, but we still can't thank them enough for all the hours they put in to make these exhibitions happen and we hope they'll join us again next time.
Our new exhibition Navigating the Congo is open 21st – 26th September 2015 and looks at missionary work in the Congo during the 19th and early 20th century. Visit our exhibition page to find out more about the exhibition and talks!
Categories:
Events
Exhibitions
Volunteering
Leave a comment
comments powered by

Disqus