Reflections on a First World War exhibition
Posted Wednesday, 3rd December 2014
'For Liberty Against Tyranny' is our first exhibition to be situated in just a short few years of extreme turmoil. Focusing on the First World War, our exhibition research volunteers were faced with a wealth of correspondence, photographs and other documents borne out of this chaotic portion of history.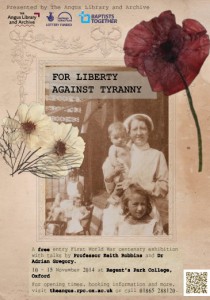 In previous exhibitions, we've had the luxury of a clear narrative of progress. Our first exhibition examined the abolition of slavery, and our second celebrated the changing roles of nonconformist women. Whilst slavery is undeniably still present in modern forms, and women are still confronted with the frustrations of a predominantly patriarchal world, we can trace a movement forward, at least in legal terms in the UK.
In our First World War exhibition, there was little to be gained from attempting to demonstrate a narrative of progress. Instead, we took on the ideas of hope and change which rang through the words of those who became caught up in the conflict. The exhibition concluded with the optimistic words of the Revd. J. H. Rushbrooke, spoken at the Baptist World Alliance Third World Congress in 1923:
I rejoice in the knowledge that the need in Europe is far less than it was. Slowly, painfully slowly, normal conditions of life are emerging…
Yet, whilst we ended with the most hopeful words our archive could offer, we knew that when Rushbrooke gave his speech he could not have foreseen the approach of a second world war, and, a century on, a world still filled with conflict.
It is challenging to present an insight into how the tremors of the First World War impacted upon nonconformists using just a selection of material from The Angus. What became clear was that no matter what we displayed, we'd sadly be showing only a small portion of the effect that the war had on so many people. Those who had been calling for the Churches of the world to unite in working towards global peace became swept up in the dialogue of warfare strategy. Those who had seen their congregations through births, marriages, and deaths, were dealing largely in deaths. Those who had sought missionary work further afield saw the need creeping closer to home.
Through all the grief and despair displayed in our archival material, there's a desire to tell a story with a positive ending. There's an urge to mould the exhibition narrative to fit our own longing for progress. I'm sure other exhibition organisers and curators have felt the same pangs of regret, revulsion and reverence when handling First World War material. Yet, we accept that we cannot shape the story to fit any kind of neat, optimistic ending. It has often been stated that the First World War 'shook the world' and that it was a 'catalyst for change', and it is perhaps too much to say that it is entirely incomprehensible. Yet, the feeling remains that through our exhibition we only glimpsed at the war's impact. Over the next four years of First World War centenary activities, in Oxford and beyond, I wonder how much more we shall truly see.
 By Katie Short, Learning and Participation Officer
Categories:
Exhibitions
Leave a comment
comments powered by

Disqus